You are hereProduction Activity Control
Production Activity Control
---
APICS defines bottleneck as 'a facility, function, department, or resource whose capacityis equal to or less than thedemand put upon it'.
In intermittent manufacturing, it is almost impossible to balance the available capacity of the various workstations with the demand for their capacity. As a result, some workstations are overloaded and others are under-loaded. The overloaded workstations are called bottlenecks.
PAC is responsible for planning and preparing order' s release to the shop floor. The order should be reviewed to be sure that the necessary tooling, material and capacity are available. Tooling is not generally considered in MRP program, so at this
stage, material availability must be checked. Checking capacity availability is a twostep process. First, the order must be scheduled to see when the capacity is needed, and second, the load on work centers must be checked in that period.
Order Processing
APICS defines order processing as the activity required to administratively process a customers' order and make it ready for shipment or production.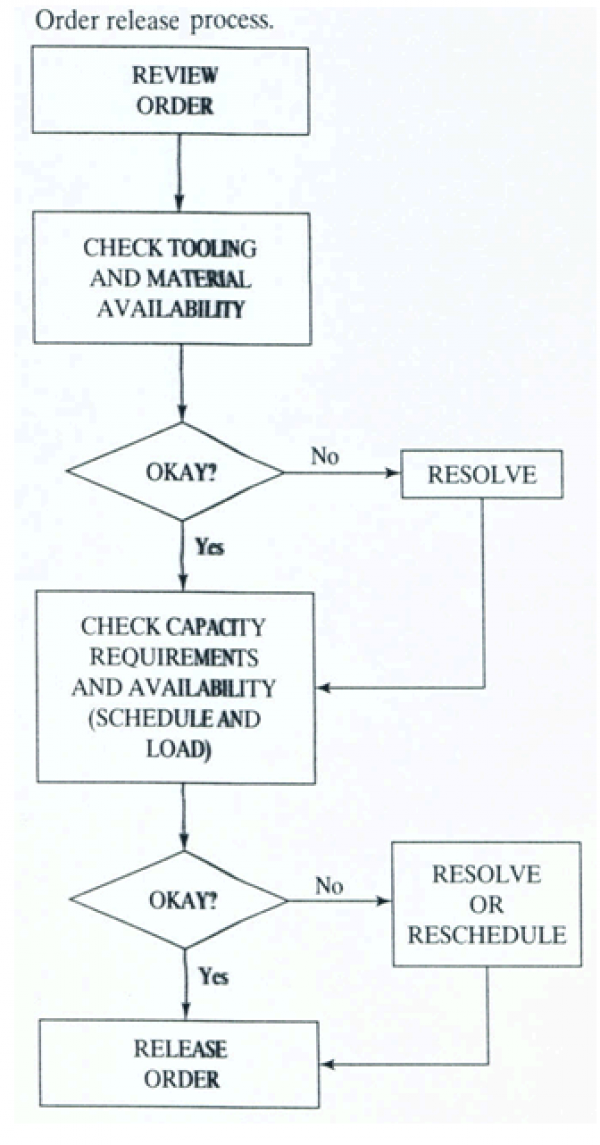 Orders that have tooling, material, and capacity have a good chance of being completed on time and can be released to the shop floor.
Other orders that do not have all of the necessary elements should not be released because they only cause excess work-in-process inventory and may interrupt work on orders that can be completed.
The process for releasing an order is shown in the side Figure.
Manufacturing processes can be conveniently broken down into 3 categories:
- Flow manufacturing,
- Intermittent manufacturing,
- Project manufacturing.